Zlatan Ibrahimovic joked he would break Mino Raiola's legs if Paul Pogba did not sign for Manchester United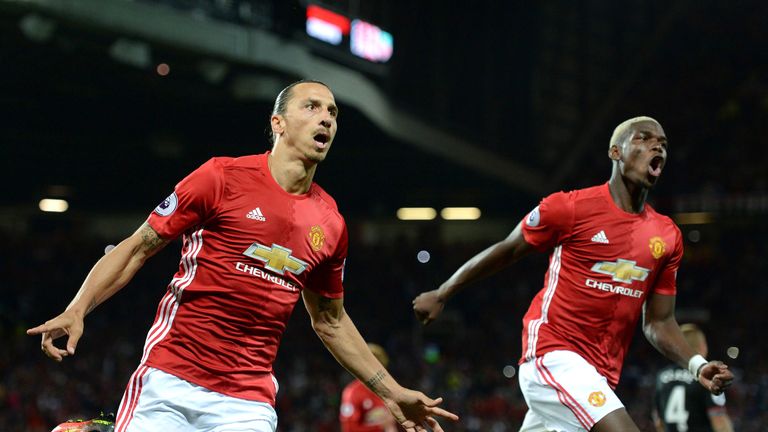 Zlatan Ibrahimovic jokingly told his agent he would "break his legs" if he was unable to secure a Manchester United move for fellow client Paul Pogba.
Mino Raiola, who represents both players, as well as Henrikh Mkhitaryan, concluded the deals which took all three to Old Trafford in the summer.
Pogba's protracted world record transfer took time to get over the line amid reported interest from Real Madrid but once Ibrahimovic completed his own switch to United, the Swede gave Raiola a nudge to ensure Pogba followed him.
"Zlatan told me, 'Do not transfer Pogba elsewhere or I will break your legs'," Raiola told Dutch newspaper Volkskrant.nl.
Pogba has taken time to settle since returning to United but produced a vibrant display against Leicester on Saturday, getting on the scoresheet in a 4-1 victory.
Prior to that game, Raiola made known his feelings that Jose Mourinho had not been playing Pogba in his favourite position - on the left-hand side of an attacking trio.
"Pogba still has to find his place in the team," added Raiola. "My preferred position for him is left attacking midfielder.
"With his power, stamina and technique... Pogba would be unplayable in that role. But Mourinho takes the decisions."
The win against Leicester came on the back of an EFL Cup victory at Northampton, but before that United had suffered three successive defeats.