Donald Trump's inner circle knows he has lost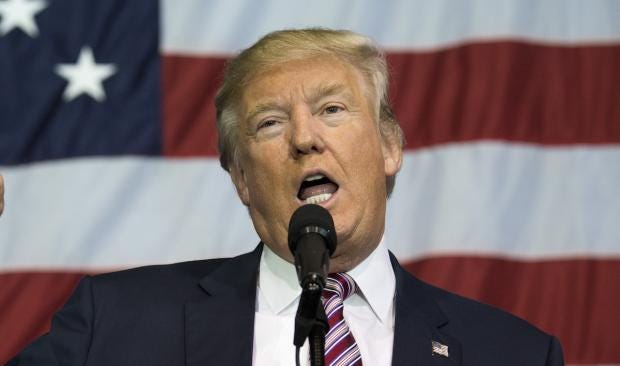 Hillary Clinton is going to win comfortably. The suspense on election night will be over which red states fall into Clinton's lap and whether the GOP loses its Senate majority. Pundits, elected officials, activists, pollsters, the media and donors know it. The voters, by increasingly enormous margins, say Donald Trump is going to lose. (In this week's CBS poll, 63 percent think Clinton will win.)
Even some of the people closest to Trump know the handwriting is on the world. Donald Trump Jr. (whose own obnoxious tweets, jokes and comments suggest he doesn't have a political future, either) is already making excuses. Running for president, the Trump scion proclaimed, is a "step down" for his father. You do wonder why he is running, then. (Given all we now know about his business acumen, the lawsuits, the income in certain discrete years, his perch isn't all that high.) In any event, it's just a glaring rationalization, a pathetic attempt to tell everyone that even if Trump loses he wins.
Trump campaign manager Kellyanne Conway has virtually checked out. She even went so far as to retweet The Post's Bob Costa's suggestion that "Bad hombres = Trump being Trump, Trump's other answers = Conway-esque." Usually, but not always, campaign staffers wait until after Election Day to throw their candidate under the bus and try to distance themselves from the wreckage. (A big exception was staffers on Sen. John McCain's team, who started trashing Sarah Palin before Election Day in 2008.)
[Trump reveals fragility at the heart of American democracy]
One of Trump's most loyal flunkies, retired Lt. Gen. Mike Flynn, could not even muster up the energy to defend Trump's refusal to concede the election. Reports Slate's Jeremy Stahl:
How to spin the possibility of Donald Trump refusing to accept the outcome of the election? "Who are you?" demanded Lt. Gen. Michael T. Flynn, Trump's military adviser who had once been considered a possible running mate. We were in the spin room after Wednesday's presidential debate, and I'd asked if he thought Trump should say he would abide by the results of the vote. "Who are you?" he asked again. When I told him, he continued to walk away without answering the question.
Flynn later insisted that Trump would accept the results, directly contradicting Trump.
And you know it's bad when even Bill O'Reilly ("You just can't play to your base, because your base isn't big enough to win. So that's the mistake he made and I don't know if he can recover from that." ) and Sean Hannity (who tried to spin up reports about a House mutiny against Speaker Paul Ryan, I guess to cheer himself up) evince lack of hope.
Even during the debate Wednesday, Trump himself seemed resigned, sarcastically wishing Clinton "lots of luck" with Syria, although he still cannot imagine a concession speech. Even his latest denial about allegedly groping women sounds half-hearted: "Discredited political operative Gloria Allred, in another coordinated, publicity seeking attack with the Clinton campaign, will stop at nothing to smear Mr. Trump. Give me a break. Voters are tired of these circus-like antics and reject these fictional stories and the clear efforts to benefit Hillary Clinton." The statement didn't actually include a straight-up denial.
Down-ticket Republicans might be looking on with horror. The turnout! He'll demoralize the base! The negative ads tying us to Trump! They should have thought of that months ago and dumped him. If they go down with the ship, it's their own darn fault.
Washington Post