Copts flee Sinai after suspected ISIS attacks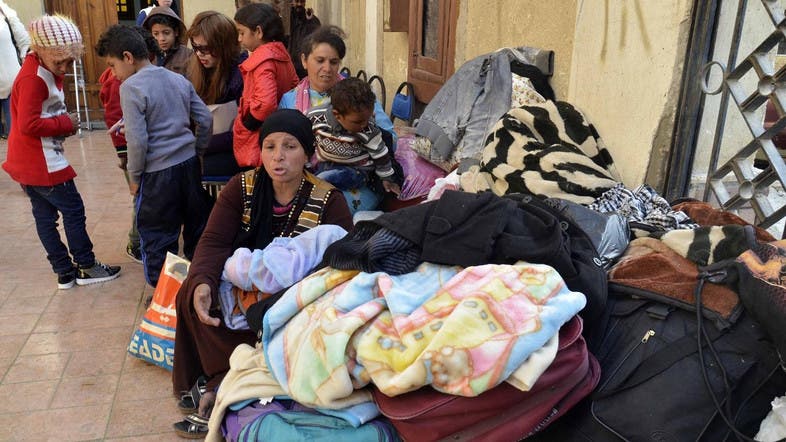 Copts fled Sinai fearing suspected ISIS attacks. (AFP)
Dozens of Coptic Christians have left Egypt's Sinai Peninsula after a string of jihadist attacks killed three Christians in the restive province, church officials said.
On Thursday, suspected ISIS jihadists killed a member of the minority in the North Sinai city of El-Arish and set his house on fire.
About 250 Christians took refuge in the Evangelical Church in the Suez Canal city of Ismailiya, said church deacon and administrator Nabil Shukrallah.
"They've come running with their children. It's a very difficult situation. We're expecting 50 or 60 more," he told AFP.
Other church officials said they have also received Copts fleeing the peninsula.
Families sat in the Evangelical Church's courtyard amid bags filled with their belongings and blankets, some of them still terrified of the danger they escaped.
"We've become scared of our shadows. We're scared someone would be walking behind us and shoot us. Christians are being targeted in an ugly way," said one middle aged man who refused to give his name.
"Some people are too scared to even open their doors to go out and buy food," he added.
Another Christian, who left Sinai with her five children, said the dangers there had put off her husband from work.
"My husband hasn't been able to earn a penny in three months," said Umm Mina. "This is not right," she said, breaking into tears.
On Wednesday, police officials said two Coptic Christians, a father and son, were shot dead behind a school in El-Arish.
Christians have been attacked before in the Sinai, where ISIS' Egypt affiliate is waging an insurgency, but there has been an uptick since ISIS released a video on Sunday calling for violence against the minority.
The video included an anti-Christian speech by a militant who later detonated an explosive vest in a Coptic church in Cairo on December 11, killing 29 people.
The bombing of the church within a compound that also holds the seat of the Coptic papacy was the deadliest attack against the minority in recent memory.
Copts, who make up about 10 percent of Egypt's 90 million population, say they are sidelined in both the education system and state institutions.
Jihadists and Islamists accuse them of supporting the military overthrow of Islamist president Mohamed Morsi in 2013, which ushered in a deadly crackdown on his supporters.
Morsi's overthrow, which came after millions of protesters demanded his resignation, was also supported by Egypt's top Muslim institution, Al-Azhar.