Five things we learned from Bayern Munich 5-1 Arsenal
Pep Guardiola's departure was meant to have left Bayern Munich vulnerable. Arsenal headed to Germany with a chance to score an early upset.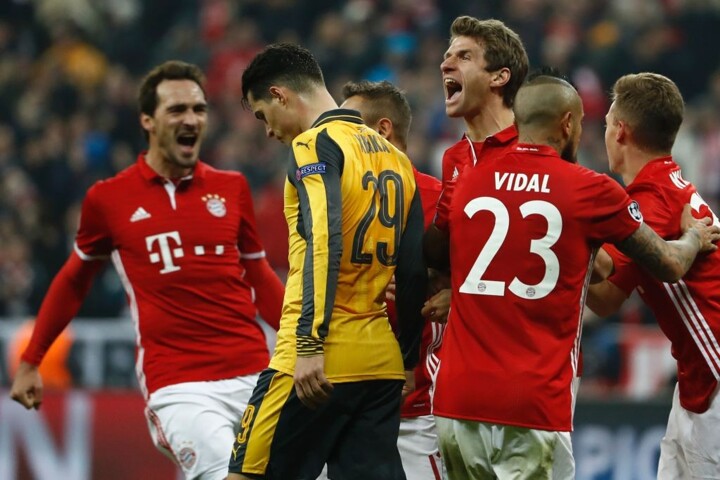 By half-time, it looked like they might just pull it off. Arjen Robben's opener, cutting inside to score, as he does, was cancelled out by an Alexis Sanchez penalty. Everything was set for a decisive second half, and the match duly delivered – just not in the way the Gunners had hoped.
Below are five things we learned from Bayern's emphatic 5-1 win over Arsenal.
Arsenal don't have a defence without Laurent Koscielny
It was all going so well for the visitors until the Gunners saw their captain for the night taken off through injury four minutes into the second half. Wenger's side had managed to find their equaliser in the first and the plan for the concluding 45 minutes seemed to be more of the same – stay sharp at the back and hit them on the break.
Yet it took just four minutes for Arsenal's resolve to crack. Robert Lewandowski rose up to ping home a second for Bayern with a wonderful, springing jump and towering header to leave David Ospina beaten. Then the Poland international turned provided, slipping a backheel past a gormless Gabriel – the substitute brought on to plug the hole left by Koscielny's absence – to feed Thiago Alcantara to make it 3-1.
Just after the hour mark, the Spaniard got lucky with a shot that took at least two deflections on its way into the back of the Colombian's net. Arsenal's strong position, with an away goal secured, had dissolved into a disaster: it finished 5-1 in the end.
They looked lost in defence without Koscileny and his willingness to take responsibility for winning individual battles to set the example and give his teammates the chance to fall in line. If he is out for any prolonged period of time, it won't just be the Champions League that the Gunners will crash out of before the season is out.
Lewandowski is the best striker in the world… for the time being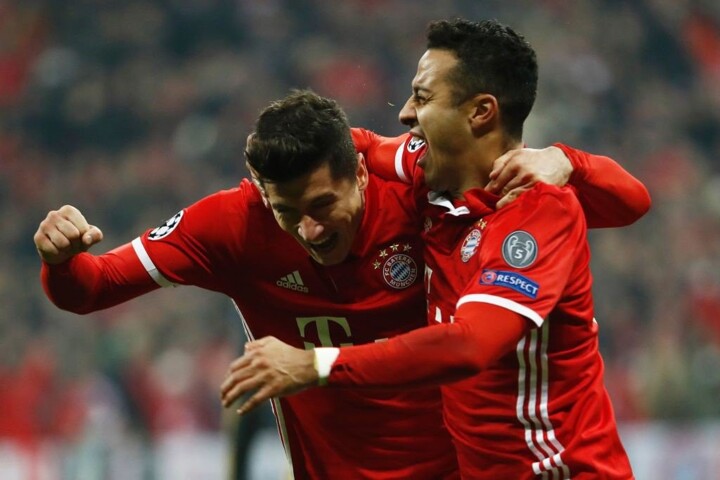 With his second half goal and an assist, it was the Pole's poise and predatory instinct to rise up to nod home goal number two for the hosts that ultimately broke the back of Arsenal's resistance.
He has already scored 15 goals in 20 appearances in the Bundesliga this season, including some supreme finishes against the likes of Freiburg, and now has six in seven in the Champions League after besting Ospina for Bayern's second at the Allianz Arena.
With his additional three goals in two DFB-Pokal Cup matches, his running total for the season in all competitions currently stands at 24 in 30. He also has five assists, meaning he has been involved in almost a goal a game across all fronts.
Luis Suarez has struggled to maintain his own high standards since the summer. Edinson Cavani will always be a source of frustration given the number of chances he spurns, no matter how good his movement may be. Diego Costa has been in excellent form, as has Alexis Sanchez for Arsenal, yet neither operate at the same level as Lewandowski when it comes to playing as a true, complete centre-forward. Right here, right now, the Pole is the best striker in European football.
…and Thiago Alcantara is up there when it comes to midfielders
As Koscielny left the field, Thiago got to work. The former Barcelona playmaker, who in so many ways would have been the ideal Wenger player had the Frenchman ever had the opportunity to sign him, as he did Cesc Fabregas 14 years ago, Arsenal would have found themselves matched up with a player who fits every single one of their ideals.
Even in the first half, he misplaced just two passes and put in three tackles to quietly take command of a mismatched midfield battle that saw the visitors send out Granit Xhaka and Francis Coquelin to try and resist their hosts through the middle. In the second, he pocketed two goals, completed 93% of his passes, and ghosted into space, unseen, untrackable, to give and receive the ball, and ultimately dismantle the visitors, piece by piece.
Carlo Ancelotti is a manager who looks to put his players first. Bayern may have plenty of question marks hanging over them but there is no doubt that they still possess a team of all-stars, with world beaters in almost every positions. The night after Marco Verratti and Adrien Rabiot ran rings around Barcelona, Thiago Alcantara put on a matinee performance against an Arsenal team that never looked like getting close to him.
Alex Iwobi is too green to pull off a Champions League lock out
Danny Welbeck was left on the bench away to Bayern Munich while Alex Oxlade-Chamberlain and Alex Iwobi took to the field, with Mesut Ozil deployed behind Alexis Sanchez up front. Did Arsenal need more firepower? That isn't necessarily what the former Manchester United forward would have provided to Wenger.
In Europe, Sir Alex Ferguson would often use the attacker to track down and shackle specific threats within the opposition's line-up, most famously sticking him on Xabi Alonso when Jose Mourinho brought Real Madrid to Old Trafford in 2013 after the England international had scored an away goal in the first leg at the Bernabeu.
A trip to Munich to face Bayern is exactly the sort of game in which Welbeck thrives, not just pacing it forward on the counter-attacking but snapping up loose balls, tackling defenders and midfielders to disrupt the opposition from deep and positioning himself intelligently in areas the other side wouldn't want him to be.
Instead, he was left on the sidelines as Alex Iwobi was tasked with trying to play a role he never looked ready for. Earlier this season, the Nigerian lit up the final third for the Gunners, relieving Ozil of the responsibility of being the sole creator and enhancing the fluidity of their attack.
Against Bayern, he looked out of his depth and unprepared for a game in which Arsenal's grip was only ever going to be tenuous, and that needed the canniness and experience Welbeck could have provided to give balance, defend from the front and make things more difficult for Alonso and Co. in front of their own defence.
It's not how he would have planned – but Arsene Wenger needs to walk away this summer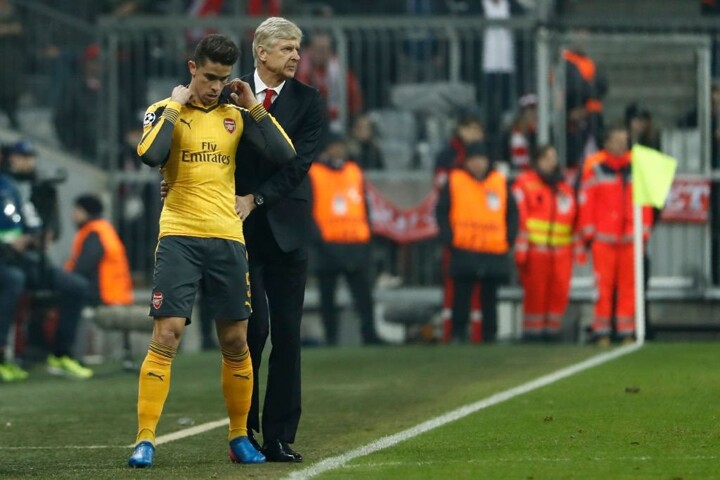 A 5-1 deficit will be hard to turnaround at the Emirates, especially given how impressive Ancelotti's Bayern can be on the counter. If the Gunners push forward as they need to at home, the Bavarians are likely to be able to pick them off and grab an away goal of their own.
Therefore, Wenger will have to wait another year to put his exit strategy into action but Arsenal can't afford to keep giving him the time to leave on his terms. Can Arsenal afford to give him the time to leave on his own terms, bowing out on the top with another Premier League title or, as he would prefer, that medal collection-completing win in the Champions League; the one he really wants. However, it's only going to get harder. The English topflight is becoming an arms race of transfer budgets and coaching contact time once again, which leaves Wenger at a disadvantage on two counts.
Given the drubbing Barcelona suffered away to Paris Saint-Germain, and Bayern's supposedly weakened state without Pep Guardiola at the helm, this was meant to be a year in which Europe's top tier competition could be won by an outsider, not one of the usual suspects. It is only going to get harder next year in Europe too, whatever happens.
Let's say Monaco, Sevilla or Manchester City win it in 2017, the big sides will react in 2018 in a similar manner to how the Premier League elite have to Leicester City's shock win last year. The empires will strike back, and for all his efforts, Wenger has never quite managed to turn his north London principality at the Emirates into a true seat of imperial football power, comparable with the Allianz Arena, the Camp Nou or even Old Trafford – it surely is only a matter of time before money bags United return to the competition, with or without Mourinho.
With nothing left to play for, it's time for Wenger to think of a way to step down with his head held high, without the big finish. If he can't conceive of a way out, it may be up to the club to show him the way.