(photos, video) Neighbors catch thief, 30, beat him up and hang him by his wrist
A surprising video footage has surfaced online showing a suspected thief hanging from a tree by his wrists
Reports indicate that neighbors in a small Mexican town caught the suspect, beat him up and then put him on display
Police intervened to rescue the man before putting him in custody
A surprising video footage has surfaced online showing a suspected thief hanging helplessly from a tree by his wrists.
Neighbors in the small Mexican town of Tulancingo reportedly caught the man, identified as 30-year-old Virgilio, in the act of breaking into a house. They nabbed him, beat him up and then put him up on display.
When police arrived at the scene, they first had to contend with an angry crowd of about 80 residents who did not want the alleged thief to be relieved of his unusual punishment.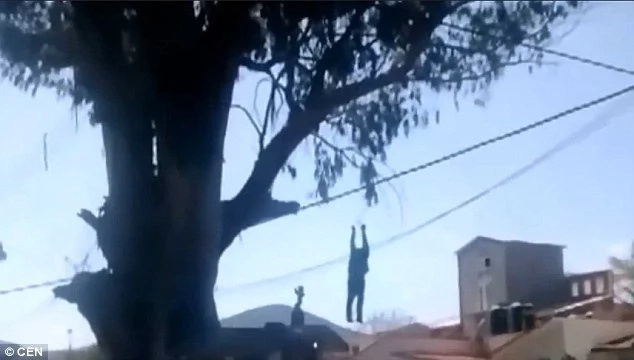 Police had to intervene to rescue the man
Reports indicate that the crowd attacked the police officers when they tried to bring down Virgilio, causing minor injuries to two of them and damaging their patrol car.
The officers then had to call for reinforcements and eventually managed to contain the crowd before rescuing Virgilio. They took him away and put him in custody after he received medical attention.
Police said Virgilio will be charged with burglary.
To see the video of the incident, see the link below.