Donald Trump and other leaders differ on trade, climate at G7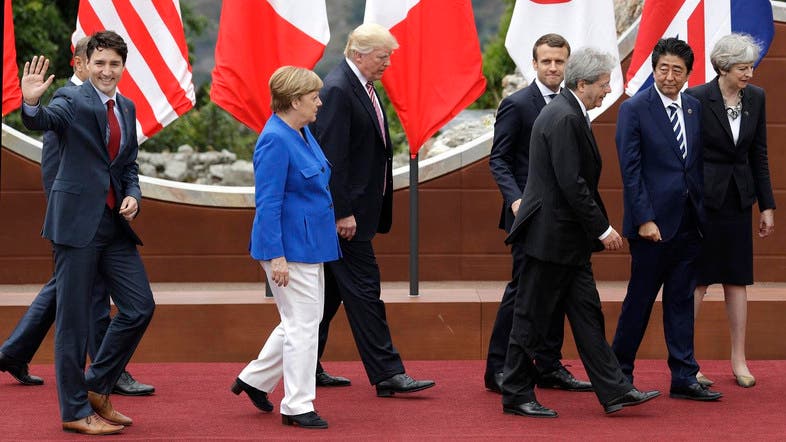 Leaders leave the podium after a group photo at the G7 Summit in the Ancient Theatre of Taormina (3rd century BC) in the Sicilian citadel of Taormina, Italy, on Friday, May 26, 2017.
Leaders from the world's major industrialized nations began talks on Friday at a G7 summit in Sicily which is expected to expose deep divisions with US President Donald Trump over trade and climate change.

The two-day summit, at a cliff-top hotel overlooking the Mediterranean, began a day after Trump blasted NATO allies for spending too little on defense and described Germany's trade surplus as "very bad" in a meeting with EU officials in Brussels.

After receiving warm receptions in Saudi Arabia and Israel, Trump's confrontational stance with long-standing partners in Europe cast a cloud over the meeting in Taormina, where leaders are due to discuss terrorism, Syria, North Korea and the global economy.

"No doubt, this will be the most challenging G7 summit in years," Donald Tusk, a former Polish prime minister who chairs summits of European Union leaders, said before the meeting.

White House economic adviser Gary Cohn predicted "robust" discussions on trade and climate.

Trump was elected in November after a campaign in which he rejected many of the tenets that the Group of Seven has stood for, including free trade, multilateralism and the liberal democratic values.

European leaders, including German Chancellor Angela Merkel and new French President Emmanuel Macron, had hoped to use the summit to convince Trump to soften some of his stances.

But diplomats conceded as the talks began that the United States was unlikely to budge, meaning the final communique could be watered down significantly compared to the one the G7 unveiled at its last summit in Japan.
Trade and climate
'Very bad'