Those EPL transfers that were hijacked by rival clubs. Thanks
Ah, the transfer window. The one thing that keeps football fans active during the off-season, fervently refreshing their Twitter timelines or major news websites to see if that star player was indeed joining their club or not.
Sometimes, it is an exercise in futility. In other instances, it results in frustration as their club's 'target' decides to go elsewhere. But a select few transfers can cause fans to hurl their phones at the nearest hard surface when they realise a rival club has swooped in to sign the player with either a higher transfer fee or better wages.
Here are 6 instances when rival clubs hijacked transfers.
6 Aaron Ramsey: Joined Arsenal instead of Manchester United (2008)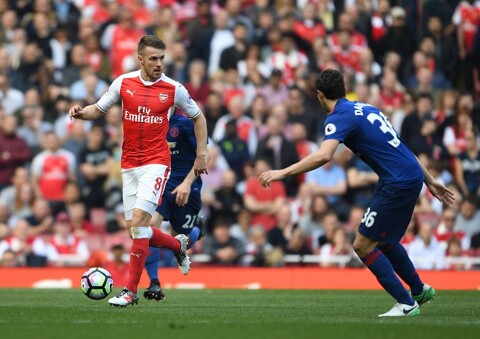 Aaron Ramsey first turned heads at Cardiff City in the 2007/08 season where he played a crucial role in the club's route to the FA Cup final (which they eventually lost to Portsmouth). And Sir Alex Ferguson was one of the first to call up Cardiff manager Dave Jones to check on his availability in the transfer market.
He put things in motion and soon the club had agreed on a fee to sign Ramsey. United even announced the deal on their official website stating that they were "delighted to announce it had agreed to terms with Cardiff City" subject to a medical.
However, Arsenal and Everton were also in talks with the club. Cardiff City assistant manager and Terry Burton (a former Arsenal player and coach) had helped develop Ramsey at the club and he suggested that a move to Arsenal would be better for the Welsh midfielder since the club's style of play matched his.
Arsenal's bid of £5m was soon accepted by Cardiff and Ramsey went on to join Arsenal where he has since won three FA Cups, scoring the winner in two finals.
5 Willian: Joined Chelsea instead of Tottenham (2013)
In 2013, Anzhi Makhachkala decided to cut back on their massive spending and they had to sell one of their biggest assets at the time in Willian. Tottenham were in the driving seat to land the Brazilian winger and the north London club had seen off competition from Liverpool. They were expected to sign Willian for a fee of £30m.
The then-25-year-old had even arrived in London and completed a medical with Spurs as they got ever closer to securing his signature. That was when Chelsea owner Roman Abramovich made some calls to Anzhi owner Suleyman Kerimov and convinced him to sell Willian to the Blues instead for a higher fee of £32m.
The plan worked and Willian was soon on his way to Stamford Bridge. Tottenham were furious as they felt Chelsea signed Willian not because they really needed him in a side filled with attacking midfielders but to weaken Spurs' chances – an allegation flatly denied by the Blues.
Jose Mourinho had the last laugh, though, saying: "The best thing you can do is do the medical in secret."
4 John Obi Mikel: Joined Chelsea instead of Manchester United (2006)
The transfer of Mikel was a monumental disaster for Manchester United in 2005. At the time, the Nigerian midfielder was at Norwegian club Lyn when the Red Devils approached them and struck a deal to sign Mikel.
Mikel had even appeared in a United press conference, complete with a red United kit as a £4m fee was agreed. However, the club had bypassed his agents in doing so.
Chelsea then made the claim that they had struck a deal with Mikel's agents. Mikel had even 'disappeared' for a while when he wasn't available for selection with the club even suggesting that he had been kidnapped – which even led to police involvement. But it turned out that he had actually flown to London and he wanted to sign for Jose Mourinho's Chelsea, stating that he had been forced to sign with United.
The dispute had to be resolved by FIFA and a year later as Chelsea paid £16m (£12m to United to terminate their option on him) to sign the midfielder who went on to win a number of trophies at Stamford Bridge een though he was never considered a major star.
3 Mohamed Salah: Joined Chelsea instead of Liverpool (2014)
Mohamed Salah had done enough at FC Basel to impress scouts from Liverpool who were keen to make a January transfer for the 22-year-old forward who could play on the wings.
However, the Reds only offered to pay £8m for his services. On the other hand, Chelsea were ready to pay £12m to sign the Egypt international. Ultimately, it came down to a phone call from Jose Mourinho who convinced Salah that he needed him, especially after the departure of Mata to Manchester United.
But it wasn't just Chelsea's financial clout that made the deal happen. The player's agent confirmed that Liverpool's negotiations were long and protracted (almost three months) while the negotiations with Chelsea were far quicker.
2 Juan Mata: Joined Chelsea instead of Arsenal (2011)
Back in 2011, Arsenal were still not ready to spend big as financing the stadium was still on the budget. But the Gunners were ready to break the club transfer record to sign Juan Mata from Valencia because they felt it was justified to spend so much money on a then 23-year-old midfielder.
Mata had previously won the U-21 World Cup with Spain and was seen as the ideal replacement for Cesc Fabregas. Arsenal were pretty much resigned to losing him to Barcelona and Mata was their contingency plan.
However, Chelsea soon stepped in with a £23.5m transfer fee and cash-strapped Valencia were only too happy to deal with them instead. Fernando Torres had also convinced Mata that Stamford Bridge was the ideal club for him.
Mata was given the no.10 shirt and he spent two-and-a-half seasons at the club, winning the Champions League and the club's Player of the Year award twice.
1 Arjen Robben: Joined Chelsea instead of Manchester United (2004)
When a young Arjen Robben was tearing up the Dutch Eredivisie with PSV Eindhoven, he had a number of suitors waiting to take him abroad. Just when he had turned 20 years old, Manchester United expressed an interest in bringing him to England.
Robben actually made a trip to London where he met with Sir Alex Ferguson. However, the Dutch club felt lowballed by United's offer of €7m. All they would get for that measly amount was a Robben shirt with his autograph, said PSV chairman Harry van Raaij.
This was also a time when Roman Abramovich was rebuilding the squad by splashing money left, right and centre. And he came in with an €18m offer for the Dutch winger. PSV gladly accepted and Robben joined Chelsea, winning two Premier League titles and an FA Cup before making an ill-fated move to Real Madrid.