A tale of two goalkeepers: Five things learned from Real Madrid 1-1 Tottenham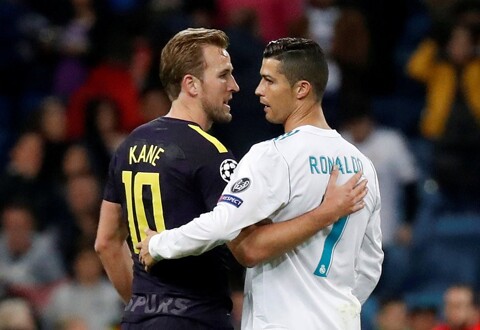 In a breathless night at the Bernabeu, Real Madrid and Spurs played out a 1-1 draw.
It was an exciting end-to-end match where two ropey defences were repeatedly bailed out by two brilliant goalkeeping displays (Hugo Lloris in particular). Spurs scored their first-ever goal against Real Madrid, as did Mauricio Pochettino, but failed to get the win. What did we learn?
1. Two-up top a terrific tweak
Harry Kane is widely seen as a no. 9. Obviously he wears no. 10 but he's a line-leading striker who often plays up-front on his own. Fernando Llorente is much the same. Neither of these two target-men have any real pace, so pairing them together was probably a bad idea, right?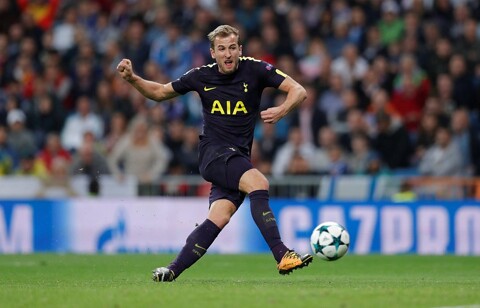 With Dele Alli suspended, Mauricio Pochettino opted to pair the two strikers ahead of a free-roaming Christian Eriksen. The results were surprisingly effective. Despite the lack of pace, both men's sheer size as well as their intelligent movement disorientated Real Madrid.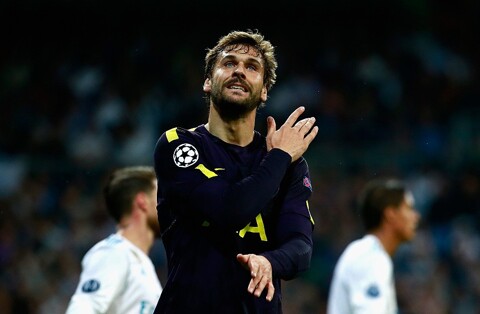 And with Llorente playing a more orthodox role, Kane was free to drag his markers into uncomfortable areas and blitz them. He did exactly this to Sergio Ramos 21 minutes in, eviscerating him on the right flank before sending in a great cross to Llorente. The Spaniard then drew a wild challenge from Casemiro and should have won a penalty but the referee didn't blow.
They linked up again with 20 minutes left when Llorente sent a nice pass through that left Kane 1v1 with Keylor Navas. The Englishman telegraphed his shot and allowed Navas to make a save, however. The Spaniard sent Christian Eriksen through on goal a couple of minutes later for a chance the Dane should have buried. Llorente then went off with 10 minutes to go, but in that 80 minutes he showed just what he could bring to Spurs as a partner to Harry Kane, which bodes very well for the future.
2. Modric the master, Winks the apprentice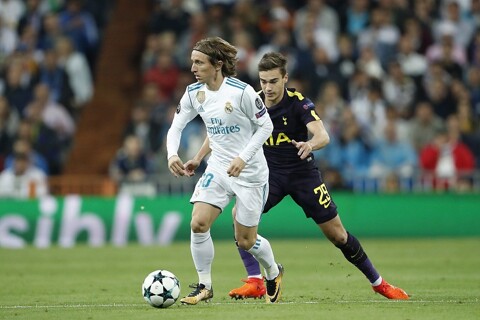 Spurs will feel very confident about the future of Harry Winks after the young man's display at the Santiago Bernabeu. The young Englishman was incredibly confident on such an enormous stage despite his limited experience, he moved the ball well (he played a small but important part of the move that led to Spurs' opener) and also wasn't afraid to get stuck into the tackle. He provided a superb platform for Christian Eriksen and Moussa Sissoko to stand out.
As for where Winks can go? He need only look across the field to Real Madrid's no. 10, the best central midfielder in the world, to see. Luka Modric was brilliant in the Bernabeu, as he so often is. He completed 88% of his passes, created one chance and won 3/4 tackles. He controlled the game, dancing away from Spurs markers and repeatedly driving his side forward, allowing Toni Kroos and Isco to do their usual thing in the final third.
3. Defensive changes disorganise Spurs
Spurs only conceded once at the Santiago Bernabeu, and that from the penalty spot, so many people would be tempted to say that Spurs defended well. But that's a tricky thing to say; Spurs' defenders played well as individuals, but their defensive system was poor.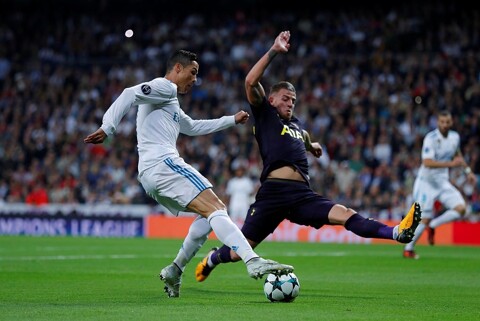 The whole reason they had to pull off so many late interventions, and Hugo Lloris had to pull off two miraculous saves (from Benzema and Cristiano), is because tactically they were too open.
This was down to the defensive changes Mauricio Pochettino had to make due to the absence of Ben Davies at left-wing-back. He shifted Toby Alderweireld to the left of his back three, Davinson Sánchez to the right and allowed Eric Dier to play the pivotal central role.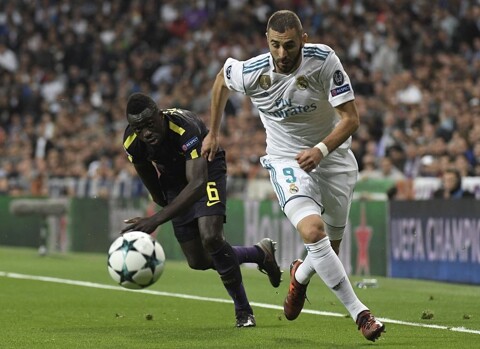 This was a disaster, really. Sánchez acquitted himself well, but Alderweireld looked uncomfortable all night long, being called into action to make desperate interventions all night, and Dier proved himself simply not up to the level of football that was being played. This led to Madrid created countless chances by exposing the lack of cohesion at the back.
Given the injuries at hand, Spurs may well have been better off playing a back four and keeping the Alderweireld, Sánchez and Vertonghen trio together in the same order (albeit with Vertonghen at left-back). That sense of continuity would have led to a stronger defensive showing, and should be something that Mauricio Pochettino keeps in mind for the next time he has an injury crisis.
4. Serge Aurier: the rough and the smooth
For 92 of the 93 minutes Spurs played in Madrid, Serge Aurier was magnificent. He was giving a object lesson in why Spurs took a risk on a player with a history of homophobia and disruptive behaviour. They felt that his talent on the pitch outweighed the potential negatives.
And in the Spanish capital that talent was on full display. He rampaged up and down the touchline for Spurs; creating chances (including Spurs' own goal that gave them such a shock lead) and generally threatening Madrid with his intelligent movement.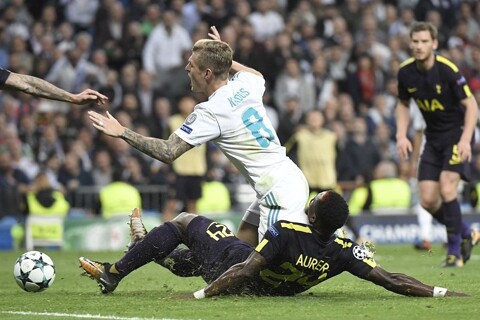 Meanwhile defensively, he was mostly good. Except for that one minute. Toni Kroos was put through on goal and even though Toby Alderweireld was coming around on the cover, Aurier dove into a senseless slide tackle and gave away the penalty that allowed Los Blancos to equalise. It was a moment of madness that marred his and Spurs' evening; but then that seems to be the cost of playing Serge Aurier.
5. A tale of two goalkeepers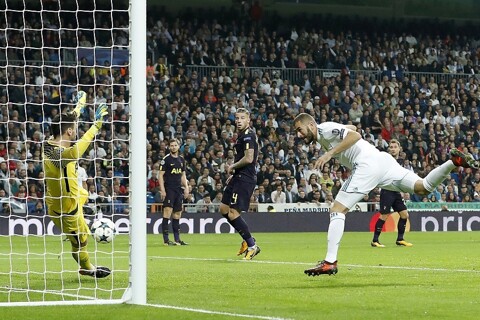 The main reason this game ended 1-1 (well, besides the referee not giving a penalty for Casemiro clattering Fernando Llorente) was that Keylor Navas and Hugo Lloris put in superb performances, especially Lloris.
Navas made a couple of stunning stops from Harry Kane, once deflecting his bouncing header up and over the bar at 0-0. And then at 1-1 with 20 minutes left to play Fernando Llorente sent Harry Kane clean through on goal. And sure Kane telegraphed his shot but Navas' reactions to get a hand to the shot were lightning-quick. This was a return to form for Keylor Navas who has started the season looking miles away from the sharp stopper who helped Los Blancos retain the Champions League.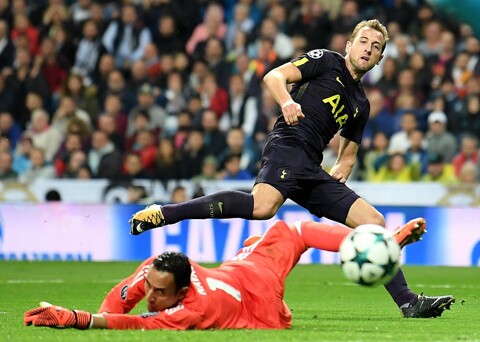 But even after those two saves, Navas was outdone by Hugo Lloris. Spurs' captain who is often accused of going missing in big games, of saving his most egregious errors for the biggest stages. Well here he stepped up big, saving his side on numerous occasions as the rejigged defence ahead of him did little to stop Madrid from launching an avalanche of shots.
Lloris' stop from Cristiano Ronaldo's rocket of a shot just after the hour mark was a wonder. The Portuguese fired an absolute rocket high at Lloris' near-post, and the Frenchman had to react with lightning precision to palm it away. And even that save had nothing on his save from Karim Benzema where he stopped the French striker's downward header with his feet as he was diving away from the path of the ball. It was unreal, a miracle, and it preserved the draw.