Seven reasons why Nigeria fielded ineligible Shehu Abdullahi against Algeria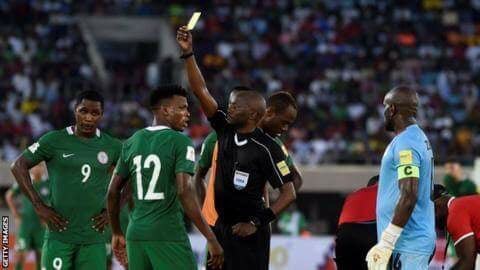 Abdullahi played the entire duration of Nigeria's 1-1 game against Algeria in their final World Cup 2018 Qualifiers in Constantine, despite picking up two previous bookings in separate games which should have earned him a one game suspension.
FIFA slammed a fine and awarded three points and three goals to Algeria, nullifying the 1-1 draw and one point picked up by Nigeria , but the result has no bearing on the final group standings.
A highly placed source of the Nigeria Football Federation (NFF) has now explained to Owngoalnigeria.com , what lead to he mix up and here are the seven reasons he gave.
1. ABDULAHI SHEHU got yellow card right from first match (preliminary rounds) of the qualifiers against Swaziland in Swaziland.
2. When the draws for group stage were made the technical staff assumed the cards from preliminaries would not count going forward and didn't take proper records. Indeed throughout the qualifying series Adullahi Shehu has never been counted as being on yellow even by the match documents such as when we played Cameroon Mikel, Moses and Balogun were all put on notice they are on a yellow and so there was even a meeting before the game how to make their yellow cards so as not to miss the decisive next match but Abdullahi Shehu was never in the mix…
3. Abdullahi got yellow card from the penultimate match against Zambia which is two years since the first match where he got the first Yellow (note we played the preliminary rounds against Swaziland in November 2015 under Sunder Oliseh and played the Zambia match in November 2017).
4. FIFA sent notice after the match against Zambia that Shehu is suspended for Algeria match but sent the email directly to the technical officer in charge, whom incidentally was hospitalized at that period with a serious heart problem so was not on emails and couldn't have seen it.
5. On match day against Algeria neither the match Commissioner was aware nor the away team and ABDULAHI played the match without any protest or notice from either side.
6. Algerian never protested as they too are not aware but FIFA sent NFF a query to ask why the player played. NFF duly responded with proofs that the notice was sent to an email account of a technical staff that was Hospitalized with proofs. The FIFA disciplinary committee met and decided since previous emails has always been sent to same account and were taking so the notice is valid and sanctioned Nigeria..
7. Yes it's a really a bad mistake but thank God it's not costly and NFF is already reorganizing the Technical and Competitions departments to ensure this horrendous mistake never happened again, as this mistake is clearly the lack of delingence of the Technical department and the Competitions departments…